Mmm. Yarn porn ahead!
Yarn Porn
I was in heaven today. A.k.a., The Local Yarn Store. Gah. It was amazing. ALL those fibers. All that yarn and wool. Mmm. I'm a huge sucker for beautifully dyed yarn. There isn't much to say, so I'll let the pictures speak for themselves.
The New Zealand yarn (the mostly yellow one) is an exchange. The one I originally bought had parts where it had partially felted because of the recent humidity and general hotness. Sooo, they exchanged it with the closest colorway and then wound it into a center pull ball for me at no charge. She wanted to make sure the new one wasn't felted like the other. I love my LYS people. I really do.
The Plymouth Yarn is going on my weaving sticks once they are free.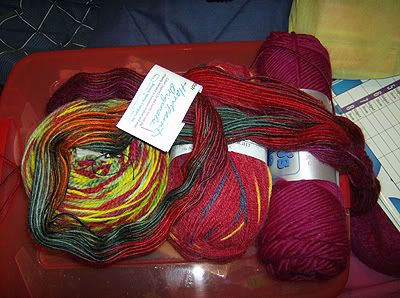 Projects
I'm currently working on two projects for my secret pal's final shipment. It's going to be great. I'm also working on a "medicine" bag. I don't like that name, so I've got to work on that.
I also picked up some beading supplies to make some jewelry. I'm excited. I can't wait to see how this secret project turns out.